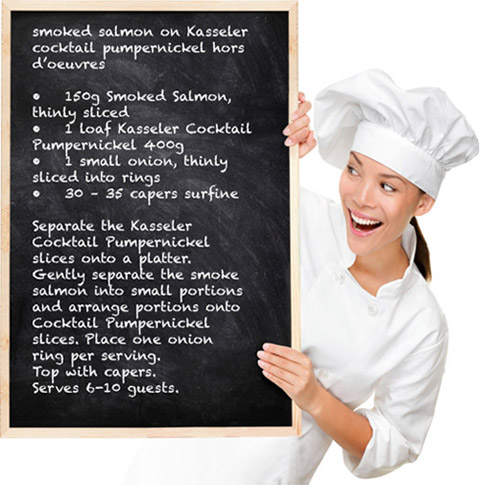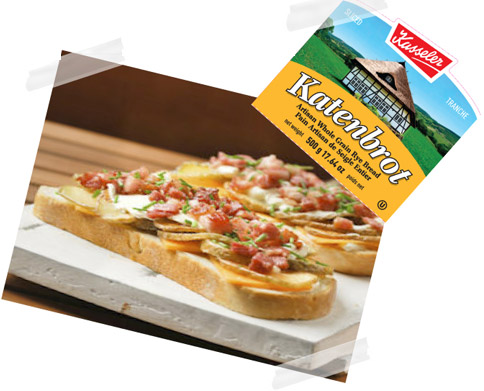 bacon and potato on Kasseler katenbrot rye
300g yellow flesh potatoes, thinly sliced
1 small onion, thinly sliced into rings
15 ml butter or margarine
5 ml Paprika
4 slices Kasseler Katenbrot Rye
8 slices cooked bacon
125 ml cream cheese
30 ml sour cream
Chopped green onions
Melt butter in pan, add onion and brown. Add potatoes and brown potatoes until they are slightly crisp and tender. Sprinkle generously with paprika. In separate bowl, blend cream cheese and sour cream. Spread cheese on Katenbrot Rye and arrange potatoes on top of cheese. Place two slices of bacon over each sandwich, and sprinkle with chopped green onions.Serves 4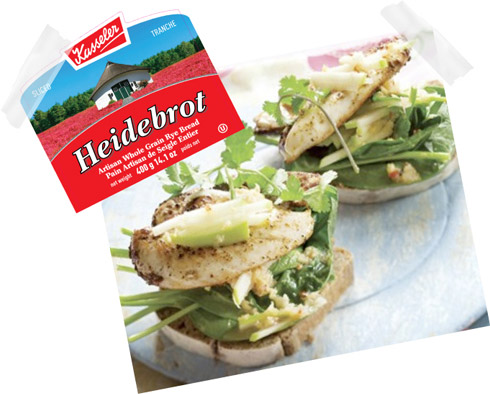 chicken and green apple on Kasseler heidebrot rye
300g cooked boneless chicken breast, chunked
1 green apple, diced
1 stalk celery, thinly sliced
125 ml mayonnaise
10 ml lemon juice
15 ml freshly chopped tarragon
15 ml butter or margarine
4 slices Kasseler Heidebrot Rye
Combine in a bowl, chicken, apple, celery, mayonnaise,lemon juice and tarragon. Butter Heidebrot Rye slices, and top with chicken mixture.Serves 4.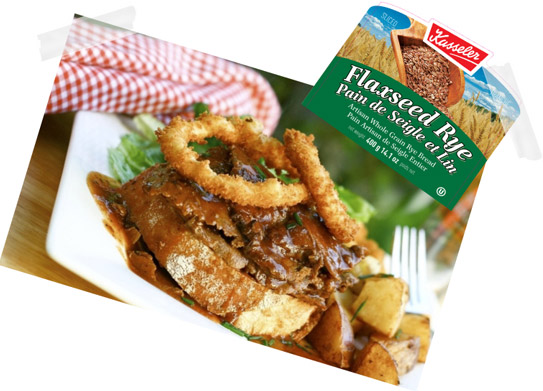 roast beef on Kasseler flaxseed rye
1 small onion, thinly sliced rings
250 ml buttermilk
250 ml flour
2.5 ml salt
2.5 ml pepper
250 ml canola oil
125 ml mayonnaise
15 ml horseradish
4 slices Kasseler Flaxseed Rye
4 leaves baby arugula
15 ml butter or margarine
300g thinly sliced rare roast beef
Soak onion rings in buttermilk for 20 minutes. Combine
in bowl flour, salt and pepper. Drain onions and dredge
in flour. Heat canola oil in a small, deep sauce pan. Fry
onion in small groups until brown and crisp. Drain on
paper towel. In a separate bowl, combine mayonnaise
and horseradish. Butter the Kasseler Flaxseed Rye,
and then spread on mayonnaise mixture. Cover with
baby arugula leaves, roast beef slices, then top with
fried onions.
Serves 4.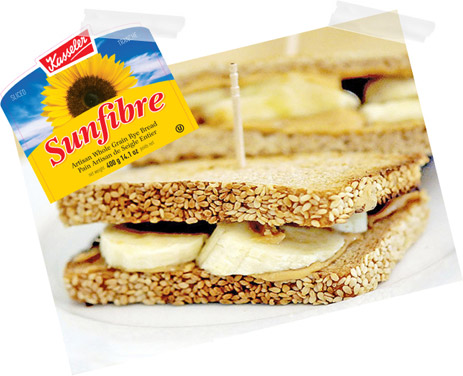 for kids:
sunfibre happy face
2 slices Kasseler Sunfibre Rye
30 ml butter or margarine
2 thin slices mild cheddar cheese
2 green olives stuffed with pimentos, sliced in half
1 cornichon, sliced in half
2 thin slices of red pepper
Spread butter on Kasseler Sunfibre rye bread. Place one
slice of cheddar cheese on each bread. Put half olive for
eyes, a half cornichon for the nose and one slice of red
pepper for mouth on each slice of bread. Serves 2.
also
Kasseler Party Rye (either Light or Dark) with peanut
butter and a slice of banana.