feel good about your bread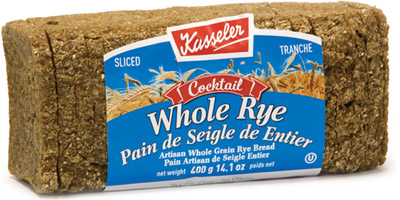 Made using the same recipe as the Whole Rye, this wheat-free sourdough bread is baked in smaller slices, perfect for a quick snack, kid's lunches or for hors d'oeuvres anytime of the year. The Cocktail Whole Rye is carefully prepared using the original methods to sprout the grains before mixing, and baking the breads at low temperature in baking forms, producing bread without a crust. This method of preparation helps maintain
the wholesome nutrients of the whole grain rye. The uniquely sour tasteof the Cocktail Whole Rye ideal with Brie, Camembert or Black Forest Schinken (Ham). A high source of fibre, the Cocktail Whole Rye packs 5 grams of fibre in four small slices. More than 29 grams of whole grains per 40 gram serving.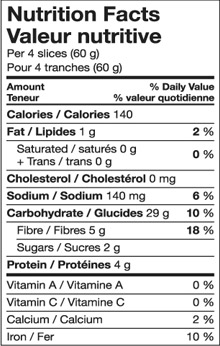 Ingredients: Rye Meal, Filtered Water, Rye Flour, Potato Starch, Sea Salt, Caraway Powder, Yeast, Sourdough Culture.
May Contain Traces Of Tree Nuts.