feel good about your bread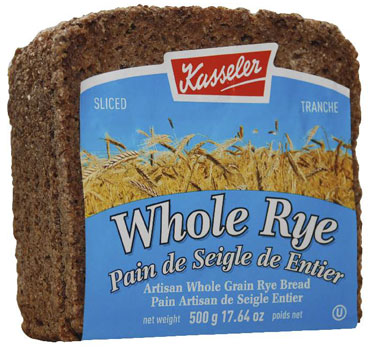 Our Whole Rye is a sourdough bread made using 100% whole grain whole rye, for a hearty, delicious taste and real whole grain texture. In German, this bread is called "Vollkornbrot". The Whole Rye is carefully prepared using the original methods to sprout the grains before mixing, and baking the breads at low temperature in baking forms, producing bread without a crust. This method of preparation helps maintain the wholesome nutrients of the whole grain rye. The uniquely sour taste of this rye is the perfect accompaniment for Brie and Camembert or for Black Forest Schinken (Ham).
Dr. Oz recently recommended to a studio audience member to try the "Vollkornbrot" swap. As this bread has a low glycemic index, he said swapping her regular bread for Vollkornbrot for the rest of the year would help her lose the extra 5 lbs she wanted to achieve. More than 34 grams of whole grains per 60 gram serving.
Ingredients: Rye Meal, Filtered Water, Rye Flour, Potato Starch, Sea Salt, Caraway Powder, Yeast, Sourdough Culture.
May Contain Traces Of Tree Nuts.