feel good about your bread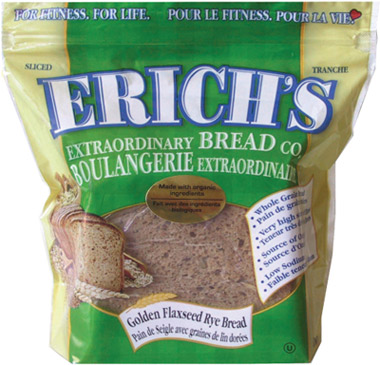 Our Erich's Extraordinary Golden Flaxseed Rye Bread is also jam packed with organic whole grains and organic seeds, providing 7 grams of fibre per slice – that is 28% of the daily recommended value of fibre in each slice. In addition to organic whole grain rye and organic whole grain spelt, the Golden Flaxseed is also made with organic whole grain wheat, for a softer, lighter texture. Loaded with organic sunflower seeds, organic pumpkin seeds and organic golden flaxseeds (both whole and ground)this bread is a source of heart healthy omega-3 polyunsaturated fatty acids, important for good health. The Golden Flaxseed Rye Bread provides 60% of Vitamin B6, 15% of Folate, 15% of Vitamin B12 and 20% of the daily recommended value of magnesium. All for only 130 calories per 50 gram slice.More than 14 grams of whole grains per 50 gram serving.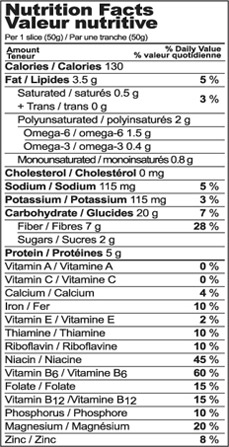 Ingredients: Organic Whole Grain Wheat Flour, Organic Light Rye Flour, Filtered Water, Organic Golden Flaxseeds, Organic Sunflower Seeds, Organic Pumpkin Seeds, Organic Golden Flaxseeds, Organic Spelt Flour, Unpasteurized Honey, Organic Soya Flour, Sea Salt, Yeast, Caraway Powder, Sourdough Culture.
May Contain Traces Of Sesame Seeds, Almonds and Walnuts.