feel good about your bread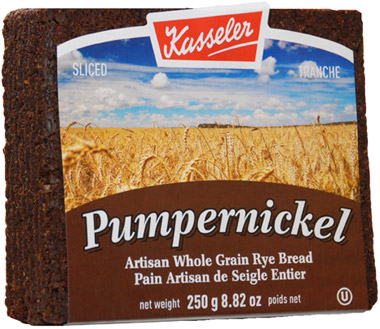 Our Pumpernickel is our pride and joy.The whole grain rye kernels are baked in the true Westphalian tradition for 17 hours in a specially built steam oven. To our knowledge,there are no other bakeries in North America that go to the expense of using this authentic method to produce their Pumpernickel. Instead they use caramel colour as a short cut to make their rye breads dark.
      Our Pumpernickel benefits from this extra effort by becoming a hearty, dark, rich tasting bread,perfect for open faced sandwiches when paired with delicacies as smoked salmon, prosciutto or soft cream cheeses. The Pumpernickel 250g is sliced, with parchment paper between each slice for easier separation. Enjoy! More than 31 grams of whole grains per 40 gram serving.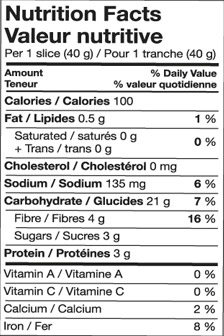 Ingredients: Rye Meal, Rye Flour, Rye, Filtered Water, Raw Cane Sugar, Sea Salt, Yeast, Sourdough Culture.
May Contain Traces Of Tree Nuts.