feel good about your bread
Our Erich's Extraordinary New York Style Pumpernickel made with 95% organic ingredients is our most nutritious bread, with 44% of daily recommended value of fibre in each slice. Like the City itself,this bread does its job of providing you essential nutrients in a big way– the natural way. Loaded with organic whole grain rye flour, organic whole grain spelt, organic sunflower seeds, organic pumpkin seeds, organic golden flaxseeds (both whole and ground), this bread is a power house of nutrition.It is a source of heart healthy omega-3 polyunsaturated fatty acids – an essential fatty acid with many functions in the body required for good health. The bread also provides 7 grams of protein from seeds and grains, 20% of the Daily Value of iron, 60% of Vitamin B6 and 35% of magnesium. All for only 160 calories per 60 gram slice. And only 115 mg of sodium. One slice with your favourite topping makes a hearty, satisfying breakfast. More than 28 grams of whole grains per 60 gram serving.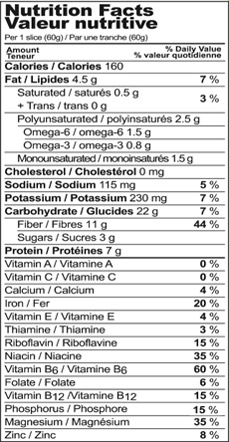 Ingredients: Organic Dark Rye Flour, Organic Rye Meal, Filtered Water, Organic Rye Kernels, Organic Sunflower Seeds, Organic Golden Flaxseeds, Organic Pumpkin Seeds, Organic Spelt Flour, Organic Ground Golden Flax Seeds, Organic Soya Flour, Soy Protein
Concentrate, Sugar Beet Syrup, Sea Salt,Yeast, Unpasteurized Honey.
May Contain Traces Of Sesame Seeds,Almonds Or Walnuts.